---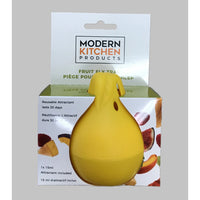 The modern kitchen products fruit fly trap effectively prevents a fruit fly invasion! It traps and kills fruit flies.
Stop using wine glasses and other unsightly contraptions and put an MKP fruit fly trap on your counter.
Included is 1 (one) fruit fly trap and 1 (15ml) fruit fly trap solution. Simply unscrew the cover, pour in 15 ml of solution, and recap. 15ml of the solution is good for one month.