---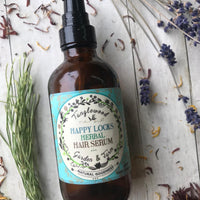 With raw natural ingredients easily recognized by your hair, it absorbs readily and beautifully, and will not leave a build-up of residual artificial ingredients. This serum has been tested on three hair types (straight/thick/coarse, long/wavy/damaged, natural curly/thin/dry) for the past 10 months, and it has been wonderfully beneficial for all; leaving hair healthier, stronger, and softer, with a natural sheen.
From settling frizz to deep conditioning, our Happy Locks will quickly become your new must-have favourite! 
To use:
Damaged ends: Rub a couple drops onto wet or dry hair ends daily. Adjust according to hair damage.
Weekly conditioning: Massage a dropperful into dry hair prior to washing or into clean wet hair.
Deep conditioning: Massage two droppersful into warm wet or dry hair. Wrap in hot towel. Leave overnight. Wash in a.m.